The only communications tool for early morning, evenings and weekends
.
As a private nursing and social care agency, Concept Care Practice prides itself on providing an empathetic and personalised service. Based in Reading, it supplies temporary and permanent health and care professionals who can provide an array of services, including 24-hour or live-in care, palliative care, cancer care, elderly support, high dependency services and learning and physical disability care.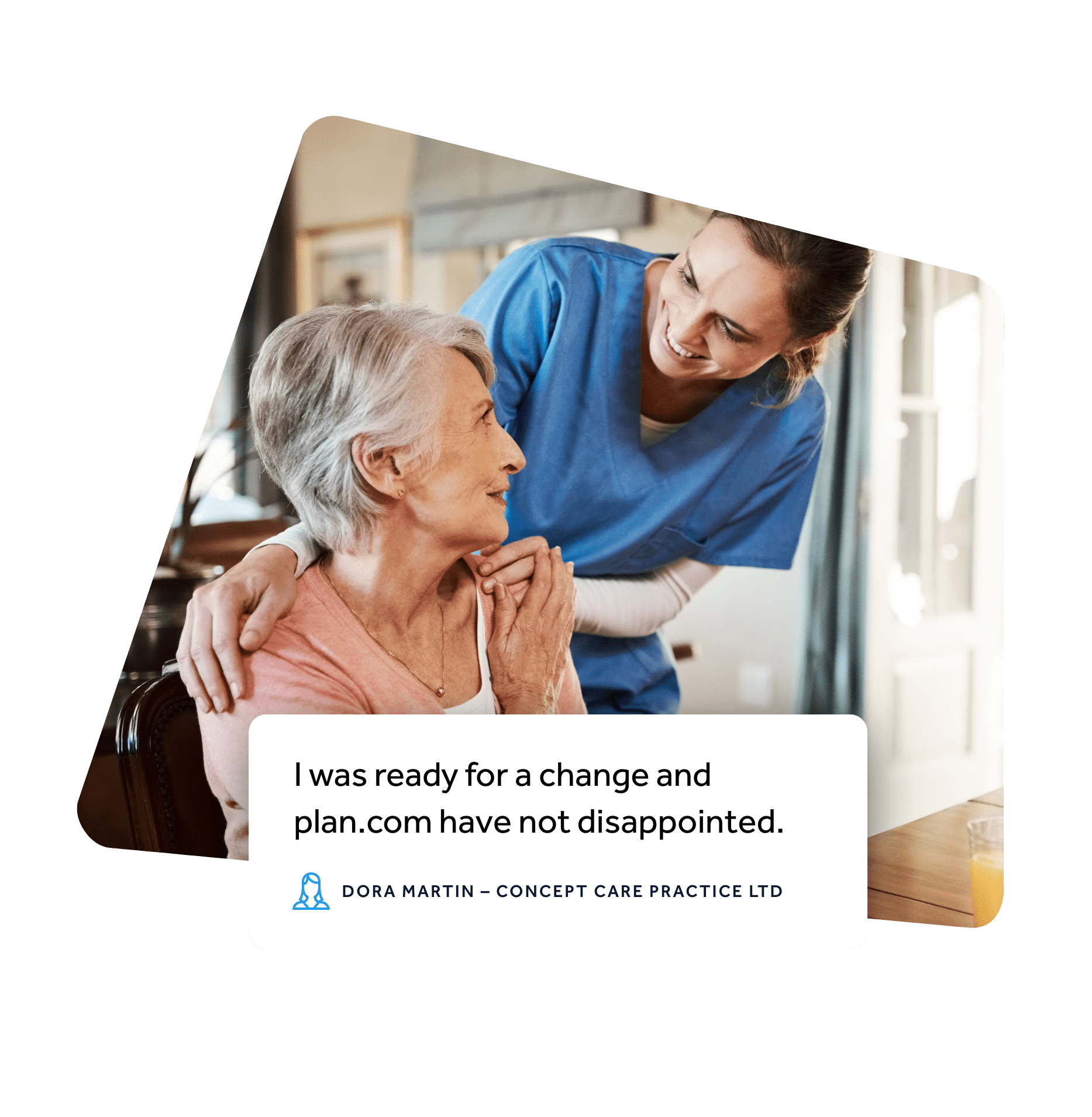 WHAT ISSUES
DID PLAN.COM
HELP SOLVE?
Supporting vulnerable people means being accessible at all times, so having reliable communications tools, including fit-for-purpose phone services and IT support, is crucial. The business operates an on-call service outside of office hours while off-site, and so needs to operate a number of mobile phones within these periods to keep in touch with clients, staff and candidates. However, over the past 18 years, the company has felt compelled to switch network providers several times, due to dissatisfaction with the service and the value they were getting.

As Dora Martin, Managing Director of Concept Care Practice explains, "As the only communications tool for early morning, evenings and weekends, our mobile phones must be reliable and if any issues occur, they have to be resolved promptly. If not, vulnerable people's welfare, as well as our reputation, could be greatly affected. And, same as all businesses, we want value for money, and we found this was not always the case.
I was ready for a change and plan.com have not disappointed.
24/7
Support and Care
20
Years' Experience
UK
Multiple sites across the UK
The proof is in the pudding, as they say, and we have just renewed our contract with plan.com and also upgraded our mobile phones, which all went smoothly
Dora Martin - Concept Care Practise Ltd


Concept Care
The result

.
Plan.com keep in touch and they act promptly when I have questions or queries. And I do get value for money.
Martin initially came into contact with Prestige, a partner of plan.com at a time when she was very unhappy with the service she was receiving from the business' existing network provider. She was impressed that they explained the various options without being pushy and demonstrated that they listen to their customers.
FROM ENTREPRENEUR
TO ENTERPRISE

.
Find out how my.plan is already transforming the way some of the UK's leading businesses
optimise their workforce communications and connectivity.
Case Study
plan.com provides detailed billing insights and easy self-management.
Case Study
We see ourselves as pioneers of our industry and plan.com are too, in theirs.
Case Study
The only communications tool for early morning, evening and weekends.
Case Study
plan.com provides that deep level of insight, immediately.
Case Study
Supporting the Parco team to complete jobs quickly, safely and within budget.
Case Study
Keeping RPP connected and in control during COVID pandemic.
Case Study
my.plan provides powerful insights & effective restrictions to curb any overspend.
Case Study
plan.com offers us the flexibility that we need.
Case Study
Innovative solution helps to enhance fan experience and engagement.
Case Study
A tech-forward solution to streamline mobile management.
Case Study
A rapid response to help tackle the digital divide.
Existing customer with a query? Visit here to email our team or visit my.plan.com where you can live chat a member of the team Monday - Friday between 8am - 7pm.

Ready to become a customer or book yourself a demo? Fill in your details below and the team will get back to you shortly.
We're committed to your privacy. plan.com uses the information you provide to us to contact you about our relevant content, products, and services. You may unsubscribe from these communications at any time. For more information, check out our Privacy Policy